In October 2022, with the support of international partners, the Medical Aid Committee in Zakarpattya opened the doors of the Uzhhorod shelter, one of three that the organization takes care of in the region. For almost 8 months, "PrykhystOK" has become a temporary second home for several dozen mothers with children from the regions affected by Russian military aggression. We tried to put this endless process on a conditional pause to tell the stories of those who fill our institution with life here and now.
---
These will be the stories of five women from Kharkiv, Kyiv, Donetsk and Luhansk regions who were brought to Uzhhorod by different paths and circumstances, where they learned about the Committee, "PrykhystOK" and their own ability to adapt to critical life circumstances in the same different ways.
Darya Rublenko, 28 years old (Pokrovsk, Donetsk region)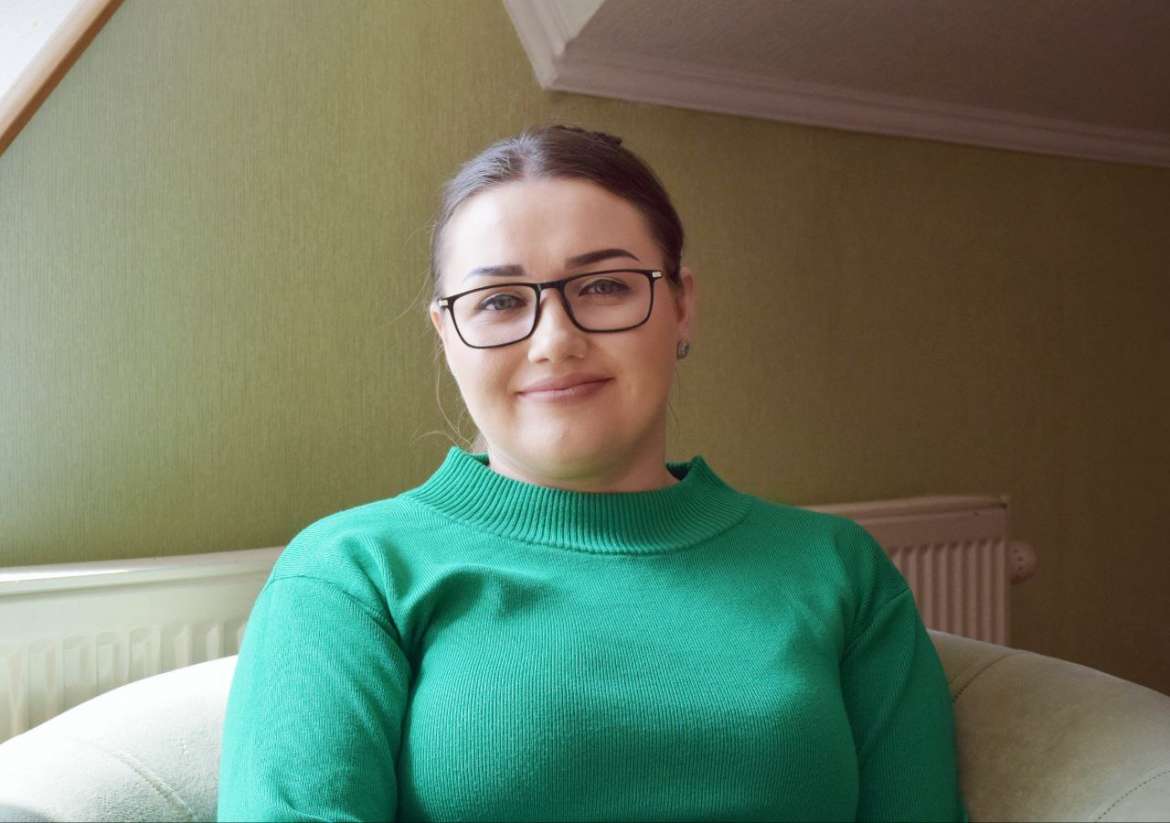 On April 6, 2022, I left Pokrovsk with my child on an evacuation train. This was preceded by enemy shelling of our homes with artillery and aircraft. It was very scary – the child was scared, I started having panic attacks... Our evacuation lasted more than a day. We were traveling to the final stop, but, in fact, to nowhere, because we had no one in Chop, where the train was arriving. There we were offered shelter in a kindergarten, and later a local resident provided us with a room to stay. Then there was a need to move on, to look for new housing. That's how we ended up in Uzhhorod. Here we lived in a hostel, then I rented an apartment, which was very expensive, but at that time my boyfriend supported us. I tried to earn an hourly income as a nanny, because the state aid for internally displaced persons was not enough to live on, and then it was stopped altogether due to confusion with documents.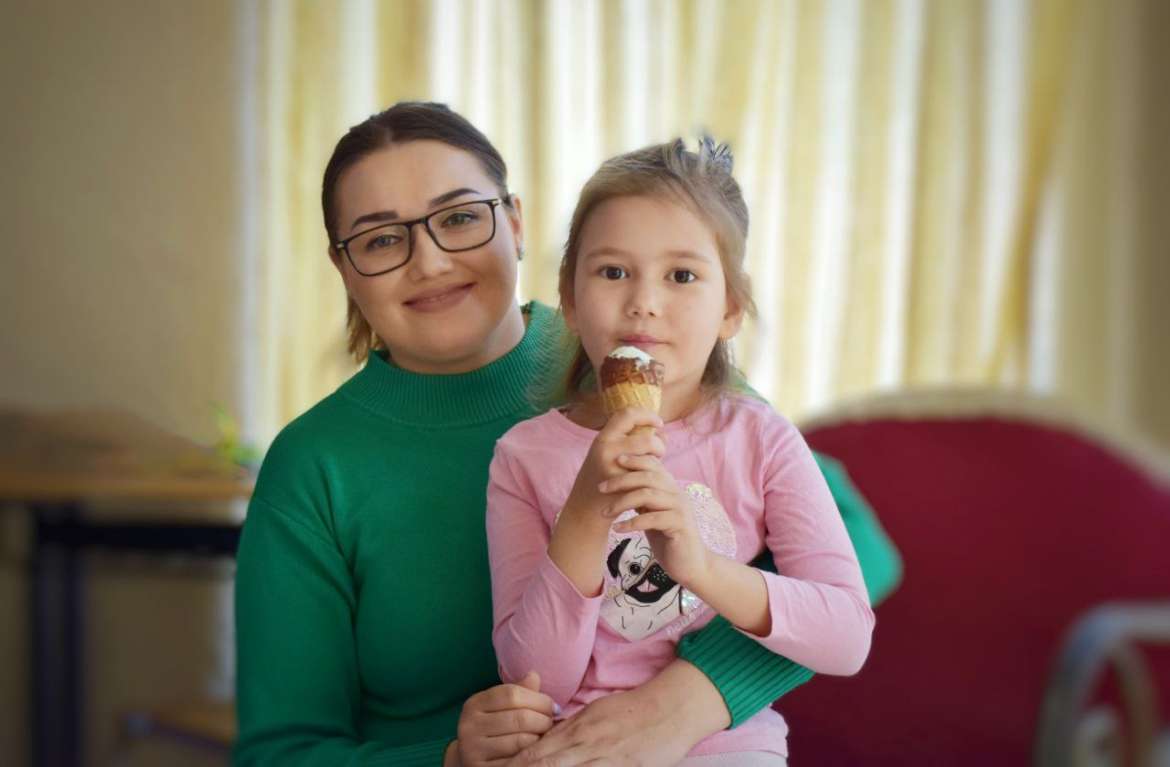 Then the circumstances developed in such a way that I was left without any support, without the opportunity to rent an apartment, employers did not hire me for a permanent job with a small child, because they did not want to take risks... I even had to hand over my jewelry to a pawnshop to have money for food. With all this pile of problems, I turned to Doctors Without Borders/Médecins Sans Frontières (MSF) that helped me find a psychologist. Actually, the psychologist, having assessed my situation, found me this shelter. Luckily, there was a free place, and in mid-April, my child and I moved there. Now I'm trying to figure out my life, with the help of the psychologist and a friend I found in Uzhhorod, where she moved from Odesa because of the war. I continue to look for a job, and from time to time I'm working as a nanny. My 4-year-old daughter goes to a public kindergarten.
Unfortunately, my relationship with my mother did not work out, and my father, who was always supportive, died in 2014 due to illness. So I have no one to rely on. From the very first days it the shelter, I managed to establish normal relations with both the residents and the staff, and my daughter made friends here. Currently, I see my immediate future with Uzhhorod. Despite the fact that I had never been here before the war, I immediately liked the city. I hope I will be able to reboot myself and my life to move forward.
Nataliya Chernous, 35 years old (Kyiv)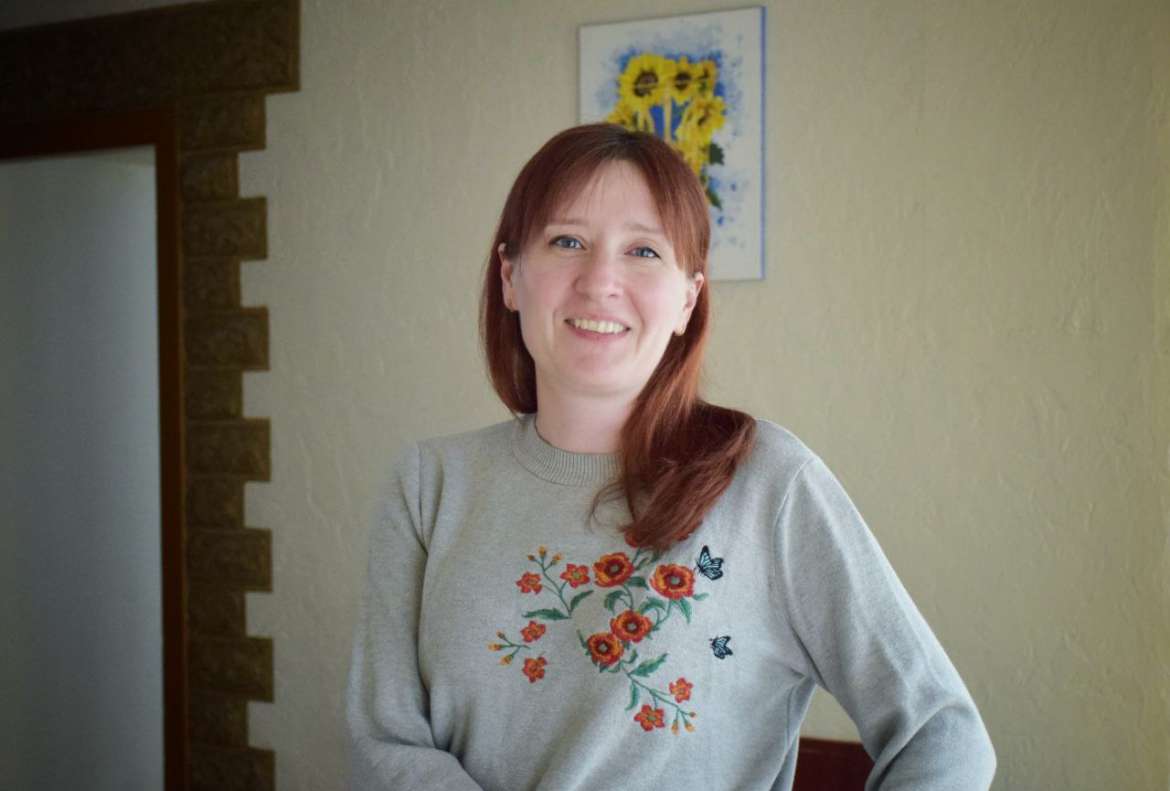 Nataliya's family – she, her husband, and three children – met the beginning of the full-scale invasion here, in Zakarpattia, where they were vacationing in the winter of 2022. Her husband, a lawyer by profession, went to war from here, joining the Armed Forces of Ukraine. He is still at the front and has not seen his family since he began his military service.
Since the beginning of the war, we lived in the Zakarpattia region for a while, then went to Italy, and from there we returned to Kyiv, where it was quite dangerous with three children. That is why we came back to Zakarpattia again. At first, we lived in Pylypets, but the living conditions there were extremely poor – a cold house, no electricity... Through acquaintances I found out about the shelter in Uzhhorod, and the next day we were here. It was my first time in the city, but thanks to the friendly atmosphere in the shelter, socialization went quickly.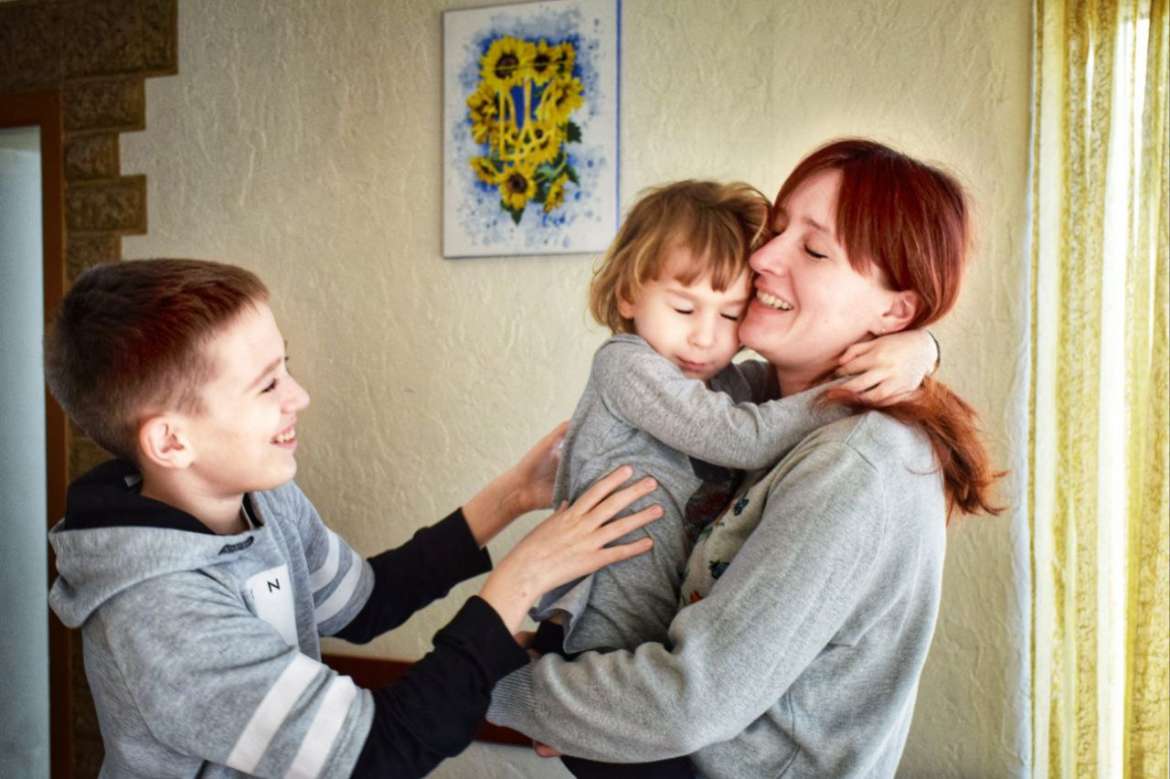 Here I take care of the children. The eldest continues his distance studying at his Kyiv school, so I have to be his teacher. Where I can't do it on my own, the staff of the shelter, Mrs. Olena and Mrs. Lesya, help me a lot. In addition to a roof over my head, the Medical Aid Committee in Zakarpattya gave me the opportunity to talk to a psychologist and provides the necessary humanitarian aid. The children took another move easier because they immediately made friends here, and I tried to organize meaningful leisure activities for them to compensate for the lack of communication with their father. Objectively speaking, it is better for all of us that we were among people, and not alone with these circumstances. Here, in the "PrykhystOK", I feel like I have undergone rehabilitation, I have received a lot of help. Now we are preparing to return home to Kyiv. But if the situation in the capital worsens, I plan to return to Uzhhorod, although I certainly believe in the best.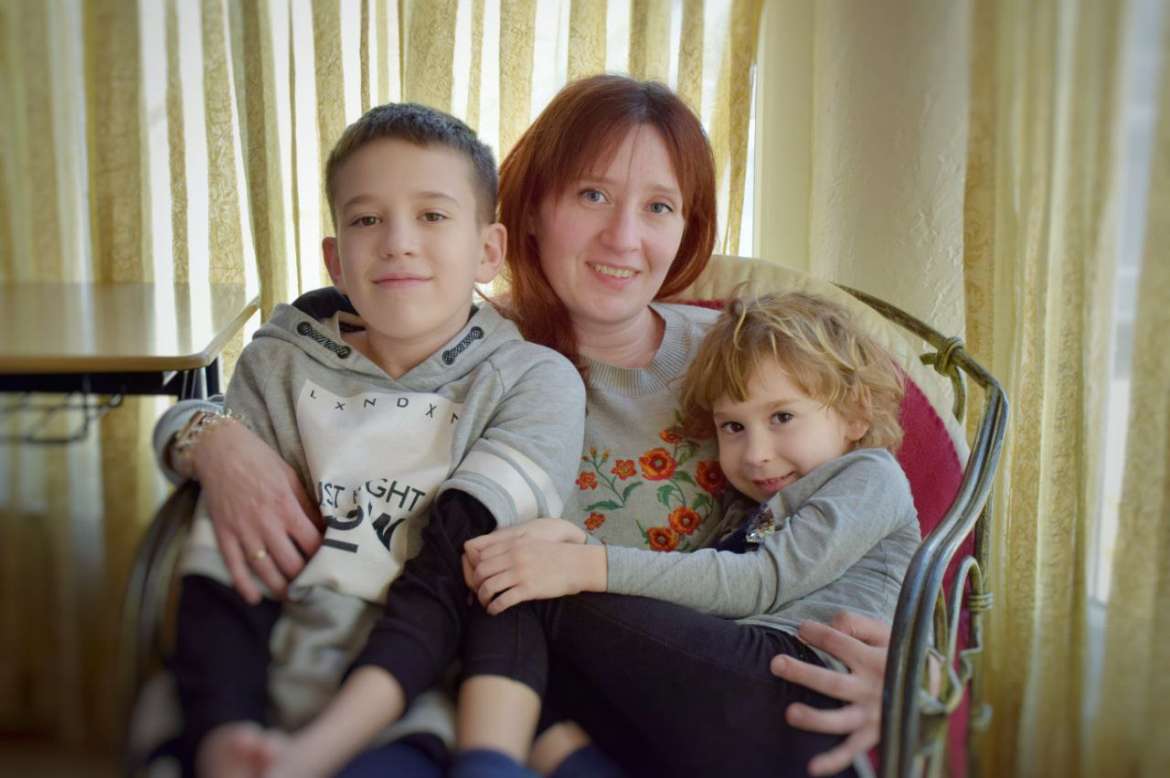 Due to the intensification of hostile shelling, Nataliya postponed her departure to Kyiv for several days. In the "PrykhystOK" she was given the opportunity to wait out the period of predicted Russian attacks.
Kateryna Voropayeva (37 years old) and Olena Roslyakova (34 years old) from Vovchansk, Kharkiv region. The stories of their evacuation and long, difficult return to Ukraine are common. The women have a long-standing friendship and say that they could hardly have survived the occupation of their hometown and their escape without each other. Each of them has two children, Kateryna has very young ones – twins, who were 7 months old at the time of evacuation.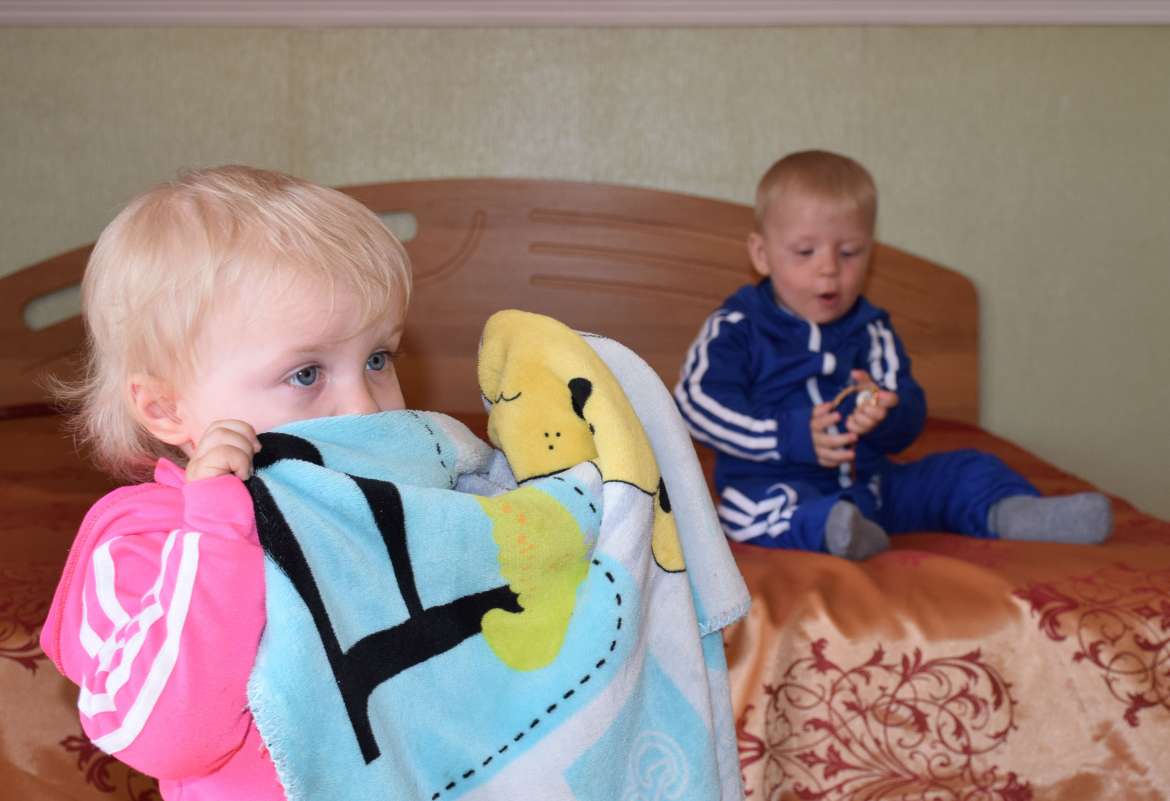 Kateryna:
On May 8, 2022, we left the occupied Vovchansk. It took us a day and a half to get to Europe through Russia. The war on February 24 began with us – we were among the first in the country to meet the shelling and the appearance of enemy troops. It was scary, and given the behavior of the occupiers, it was also dangerous. The decision to leave the house was due to fear for the safety of the children, and also because of the threat of starvation, because the food from the stores disappeared during the first days of the war, and no one else brought anything in.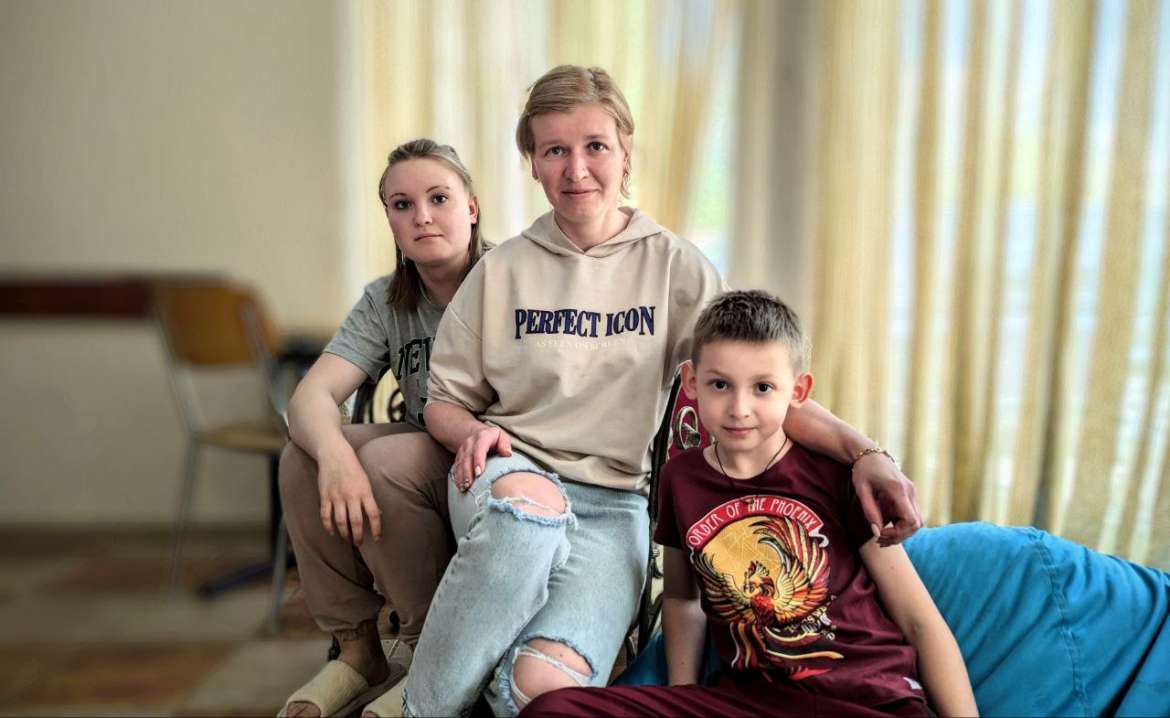 Olena:
The situation was very frightening for the children. Armed people in the city, distant and close shots... My eldest daughter once said that she felt she was about to die. I immediately started looking for options to get the children out.
The women managed to get to Latvia, where they stayed for the next 8 months: they lived in various social housing and earned money for their next trip to Ukraine, as the trip to the EU was too expensive.
Olena:
At first we were not lucky. In the first week, we were placed with people who supported Russia. Because of this, the attitude towards us as Ukrainian refugees was negative. We could not agree on basic assistance: to open a kitchen or give us some kind of container to bathe the children. We had to apply to the social service to be resettled somewhere. That's how we ended up with wonderful hosts who not only supported us in every way, but also volunteered for Ukraine. Then we lived in a dormitory – in the building that was being prepared for demolition.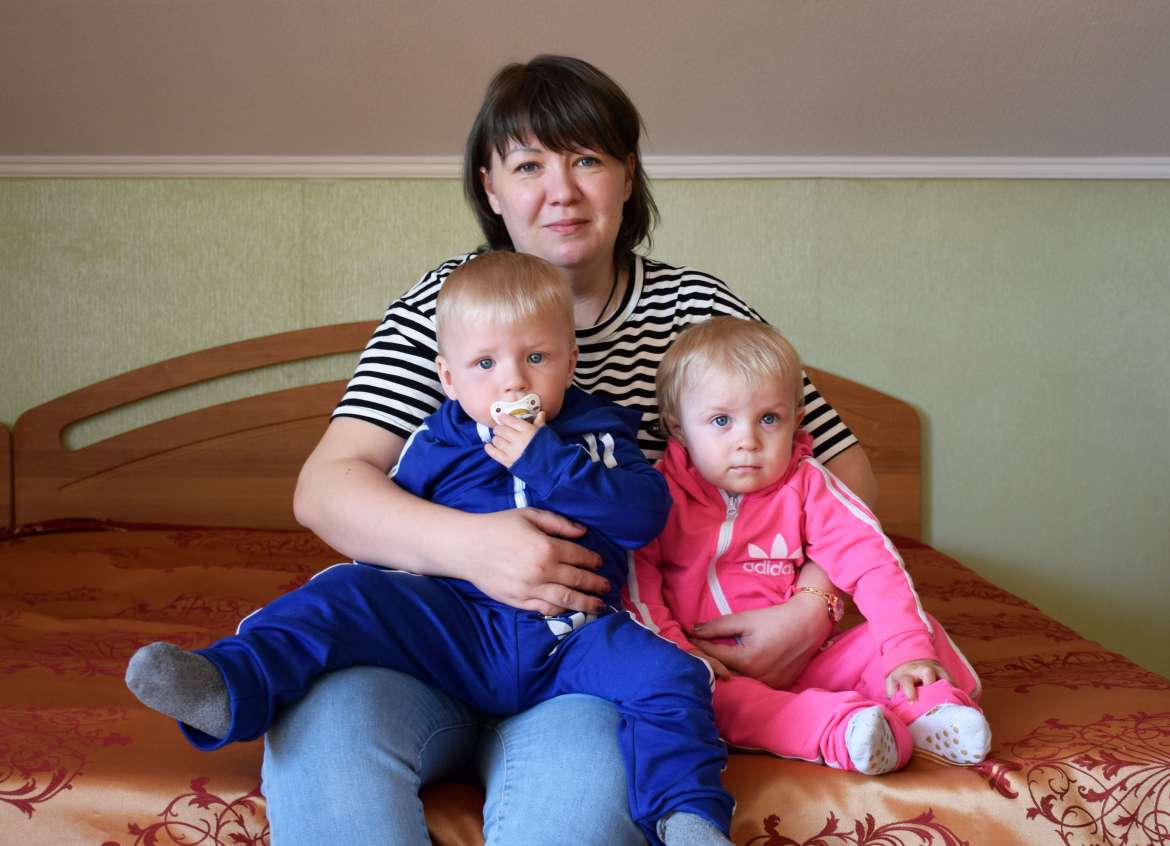 Kateryna:
We applied for social benefits from the UN and the Red Cross. These funds were enough for food and diapers for the children, because we did not receive any humanitarian aid. Due to excessive stress and a difficult trip, my body gave up, and intervertebral hernias made themselves felt. I almost lost the ability to walk, so we sought help from local doctors. It also cost money. Thanks to my friend and caring people, I managed to get back on my feet. When we earned enough money to get back to Ukraine, we came here to Uzhhorod. We believed that this was a place where we could be safe with our children. It was a long journey of 4 days, and then there were 18 hours of living at the train station. It was a miracle that we found out about the shelter through numerous calls to all the hotlines and immediately came here. You can't even imagine the condition and appearance we were in. We were welcomed well, accommodated in excellent conditions, given food, hygiene products, baby food... After all we had been through, we had no greater desire than a warm bed and a shower.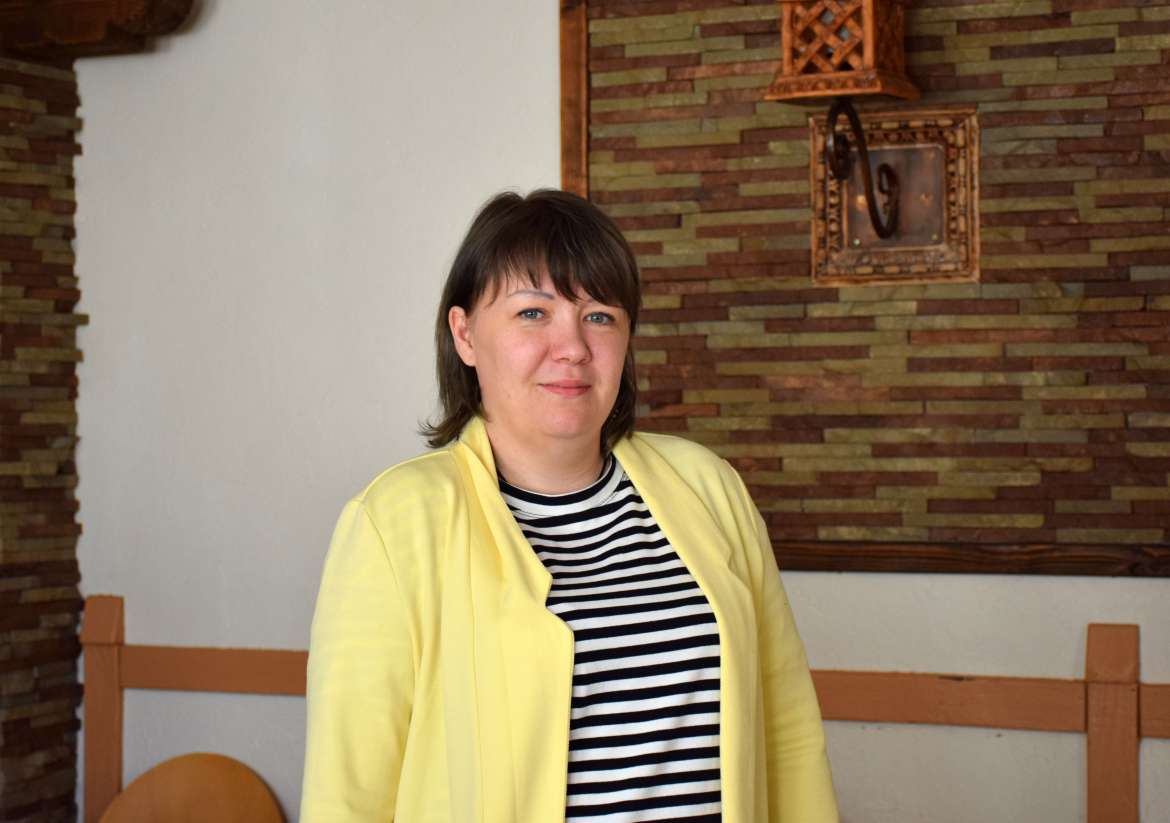 In Uzhhorod, Kateryna continues the treatment she started in Latvia. To support their financial situation, both women got jobs as saleswomen in a local store. They arranged their schedules so that they could take turns caring for their children. They say that the employer met them halfway, and neither of them had any problems adapting to the new job.
Olena:
I am far from the trade sector, because I am a nurse by training. I was worried that it wouldn't work out. But my godmother taught me everything, and people around me also supported me. My eldest daughter Dasha also helps us a lot. She takes care of Katya's younger daughter and son when we are at work or in the kitchen. Under such circumstances, children grow up faster, become more responsible, you can rely on them, they already understand everything... Here they continue their education remotely at a school in the Kharkiv region.
Currently, Kateryna and Olena's hometown is de-occupied, but the 5-kilometer proximity to the border with Russia means constant shelling and a lack of normal living conditions for civilians. The housing of both residents of the shelter is damaged. Kateryna's mother takes care of it. In turn, her daughter tries to support her, as her small pension is not enough to survive in the frontline city.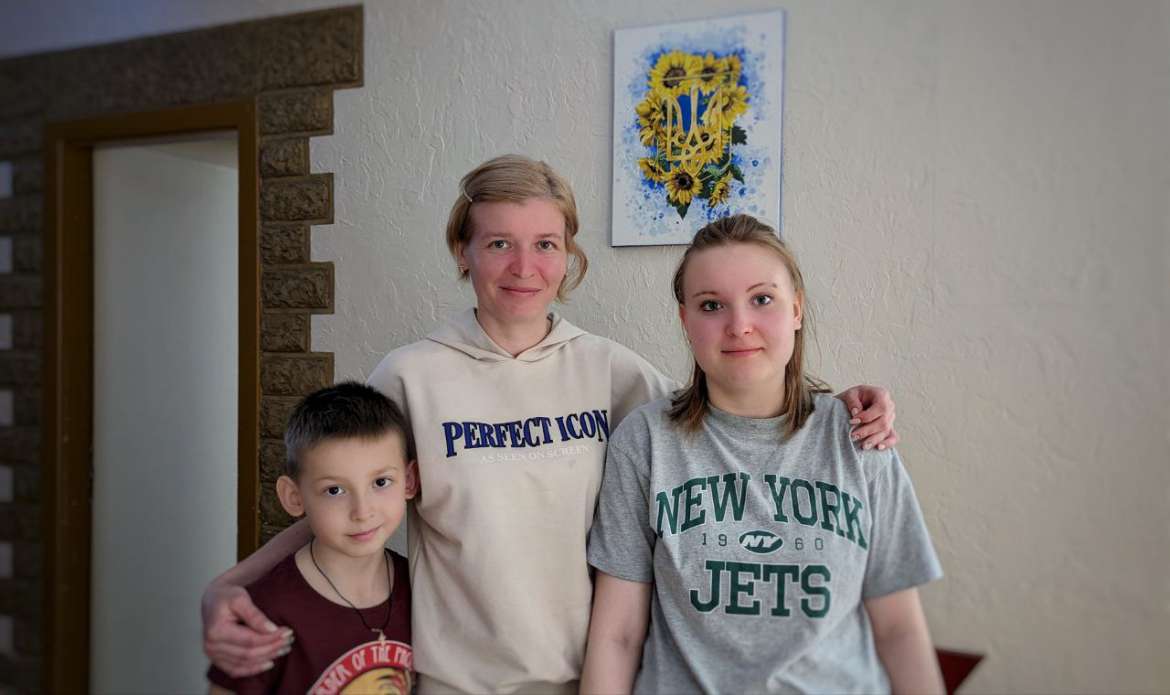 Olena:
My son's birthday is on March 4, and while we were still in Latvia, he made a wish that he would be in Ukraine on his birthday. His wish came true. Since February 21, we have been organizing our lives in a new way, but at home.
Nataliya Kostyanyk, 53 years old (Svatove, Luhansk region)
Last June, my husband and I were forced to leave our home. Our city has been occupied by Russian troops since the end of February 2022, which made life there unbearable. It was difficult morally and generally dangerous. At that time, our daughter left Kharkiv for Rivne region, and we went there as well. We traveled through Russia, Latvia, Poland... There were no other safe ways to evacuate at that time.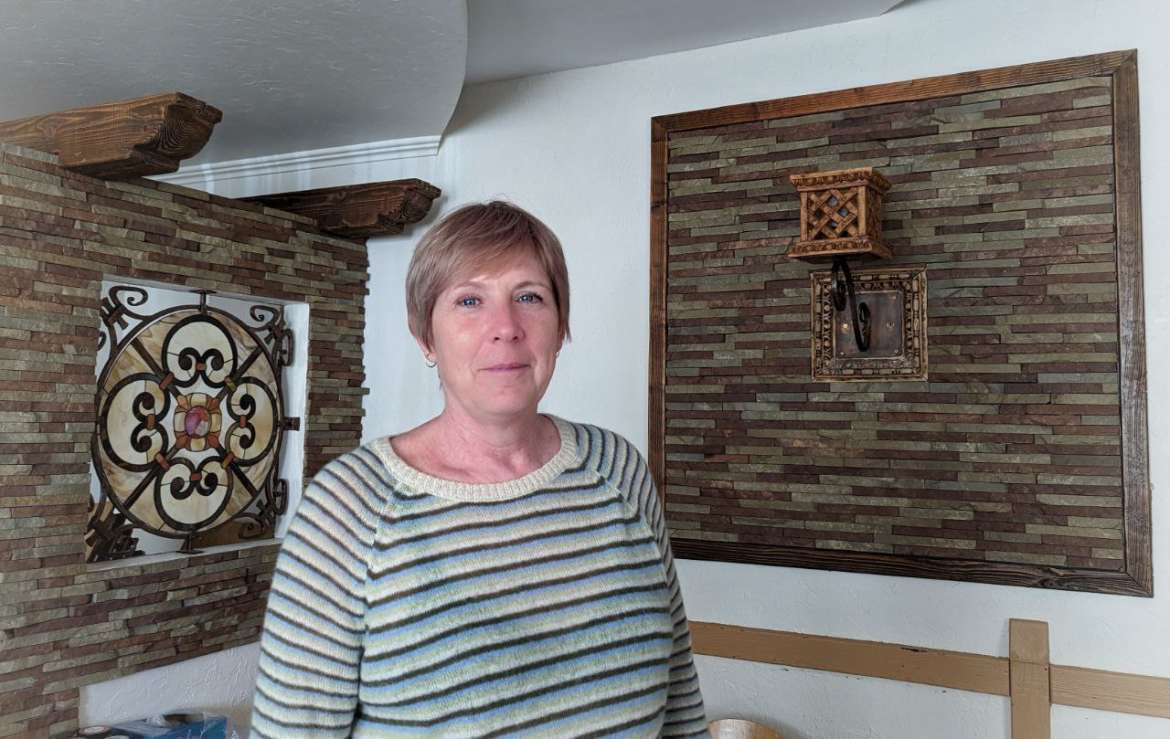 Nataliya, a correctional teacher by training, started looking for a job in a new place, but did not find any suitable offers there. After placing an ad on a specialized website, she received an invitation to an interview in Uzhhorod, and later got a job in her field.
There was one problem in this situation – very expensive housing in Uzhhorod. Fortunately, I had a friend here, a fellow countrywoman and former colleague, who told me about the shelter that had a free place to stay, and I successfully passed another interview. It helped me a lot to settle in, to find new friends... Now I'm starting to look for a place to rent, because as long as I have the opportunity to work, I'll stay in the regional center of Zakarpattia. Of course, we want to go home, so we are waiting for the victory. There is practically no contact with relatives under occupation. From time to time I receive information that they are fine and that our house is safe. But no one knows what will happen there tomorrow or even in an hour. But I still believe in the best.
---
Most of the shelter's residents found themselves in Uzhhorod for the first time, and there is no need to talk about the circumstances of the war – no one thought that in the 21st century they would have to flee from occupation and shelling. However, a positive thing in such extremely difficult conditions was the realization that the world is not without good people, that together we can find a way out of any situation. Yes, "PrykhystOK" is a temporary shelter, but everyone who has lived here since October 2022 has had the opportunity to catch their breath and deal with current problems – on their own, in communication with their new environment or with the help of a psychologist. Moving on, not giving up is a rule that works equally well in war conditions for an individual, for society, and for active communities that have taken on some of the responsibility for helping the war-affected population.
---